6 Chocolate Desserts You Won't Believe Are Keto
Rich, decadent, and easy to make in your own kitchen.
By Christina OehlerAugust 29, 2019
INGREDIENTS
8 oz cream cheese, softened
1/4 cup powdered erythritol
1 tsp vanilla extract
1/4 cup heavy whipping cream
1/4 cup peanut butter
3/4 cup Lily's Sugar Free chocolate (I used 1.5 bars)
2 tsp coconut oil
INSTRUCTIONS
Mix cream cheese, erythritol, and heavy whipping cream until smooth
Mix in peanut butter and vanilla extract until fully combined, set aside
Melt chocolate and mix with coconut oil
Brush silicone cups (I use these) with chocolate mixture and place in freezer for 5 minutes
Repeat previous step and freeze for 10 minutes
Place a couple spoonfuls of cheesecake fluff into cup and freeze for 15 minutes
Top cups with chocolate to cover cheesecake fluff
Freeze for 20 minutes covered or refrigerate for 1 hour
NOTES
I found these stored better in the fridge after they initially set
If you store in freezer, allow 10-15 minutes to thaw before eating
Be sure to use a natural peanut butter with no added sugar
Please note that I am not a certified nutritionist. Any nutritional information that is discussed or disclosed in this post should only be seen as my best amateur estimates based on NET carbs. If nutrition is important to you, I highly encourage you to verify any data you see here with your favorite nutrition calculator.
NUTRITION INFORMATION:
YIELD:
6 Servings
SERVING SIZE:
1 cup
Amount Per Serving: CALORIES: 233TOTAL FAT: 22gCARBOHYDRATES: 4 NETgPROTEIN
——————-——————-——————-——
——————-——————-——————-——
Frozen Hot Chocolate
Serendipity fans, this one's for you. Recreate your own romantic frozen hot chocolate date with this recipe from Joy Filled Eats.
Ingredients for Frozen Hot Chocolate:
heavy cream
almond milk
dark cocoa powder (or regular cocoa powder)
vanilla
pinch of xanthan gum, optional (helps stop the drink from separating)
coconut oil
ice cubes
Combine all the ingredients and blend until smooth.
Notes on Sweeteners:
I use my own blend of xylitol, erythritol, and stevia in my recipes. This is twice as sweet as sugar. It is comparable to Trim Healthy Mama Gentle Sweet and Truvia.
To sub in Swerve or Lakanto Monk Fruit use 1.5 times the amount of sweetener called for.
To sub in Pyure or Trim Healthy Mama Super Sweet use half the amount of sweetener called for.
Substitutions will work in most recipes. They may not work in candies, such as caramel.
Nutrition
Calories: 350 | Carbohydrates: 11g | Protein: 5g | Fat: 35g | Saturated Fat: 23g | Cholesterol: 61mg | Sodium: 355mg | Potassium: 246mg | Fiber: 6g | Sugar: 0g | Vitamin A: 660IU | Calcium: 350mg | Iron: 2.3mg
——————-——————-——————-——
——————-——————-——————-——
Chocolate Glazed Doughnuts
You never expected there to be a keto alternative to the chocolate doughnut, did you? Thanks to this recipe from Green and Keto, this breakfast favorite doesn't have to be off limits.
INGREDIENTS
Donuts
1/4 cup cocoa powder
1/3 cup coconut flour
1/4 cup almond flour
1 tsp baking powder
1/4 tsp salt
1/4 tsp xanthan gum
2/3 cup erythritol sweetener, like Swerve
6 eggs, large
1/2 cup butter, melted
1 tsp vanilla
Glaze
2 tbsp butter, melted
1/4 cup confectioner's erythritol
1 tbsp cocoa powder
2 tbsp heavy cream, or more as necessary
INSTRUCTIONS
Preheat oven to 350°F. Spray a donut pan with non-stick spray.
TIPS FOR MAKING THE BEST KETO DONUTS
These keto donuts are pretty easy to make. The recipe is pretty straightforward and simple. Here are some of my tips for the best results:
Use a non-stick donut pan.
Grease the pan well with non-stick spray.
Let the donuts cool in the pan, and remove them once they are cool. Keto and gluten-free baked goods tend to be fragile when warm. But, they will firm up as they cool.
Make the donuts:
In a medium bowl, whisk together the cocoa, almond flour, coconut flour, baking powder, salt, xanthan gum, and sweetener. Set aside.
In another bowl, whisk together the eggs, melted butter, and vanilla until smooth. Pour the wet ingredients into the dry ingredients and mix until just combined.
Spoon the batter into the donut cavities, filling 3 ∕ 4 of the way full.
Bake for 12-15 minutes.
Make the glaze:
In a small bowl, stir together the melted butter, sweetener, and cocoa powder. Stir in 2 tbsp heavy cream to create a "pourable" consistency. Adjust the consistency with more heavy cream as necessary.
Top the donuts:
Either dip the top halves of the donuts in the bowl of glaze, or drizzle the glaze over the top of the donuts.
NOTES
Donuts are best served the day you bake them. Leftovers keep well covered tightly at room temperature for up to 3 days.
Make ahead tip: You can freeze the baked donuts for up to 2 months. Freeze them unglazed.
Nutrition Information:
YIELD: 12 SERVING SIZE: 1
Amount Per Serving: CALORIES: 154TOTAL FAT: 14gSATURATED FAT: 8gTRANS FAT: 0gUNSATURATED FAT: 6gCHOLESTEROL: 121mgSODIUM: 88mgCARBOHYDRATES: 3gFIBER: 2gSUGAR: 1gPROTEIN: 4g
The nutrition information shown is an estimate provided by an online nutrition calculator. Carb count will vary with different ingredients and brands. It should not be considered as a substitute for a professional nutritionist's advice.
——————-——————-——————-——
——————-——————-——————-——
No-Bake Chocolate Cheesecake
This chocolate cheesecake from Wholesome Yum has our mouths watering at the sight of it. The best part? No stove or oven required.
HOW TO MAKE NO BAKE CHOCOLATE CHEESECAKE WITH COCOA POWDER
The process for how to make no bake chocolate cheesecake is super simple, and it's actually the same whether you're making a regular or low carb chocolate cheesecake. It's just 2 basic layers:
Chocolate Cheesecake Crust – Many regular recipes use oreos, but for a keto chocolate cheesecake crust, we use a combination of almond flour, cocoa powder, sweetener, butter and vanilla. Mix it all together, press into the pan, and chill to set.
Chocolate Cheesecake Filling – This is a simple mix of cream cheese, unsweetened chocolate, powdered sweetener, and vanilla. It requires some melting and beating to get it the right consistency (details on the recipe card below!), then just pour it into the crust and chill again to set.
If you forget to leave your cream cheese out at room temperature, you can heat it gently to soften it.
Do not overheat the chocolate when melting it. Otherwise, it might seize.
When mixing the chocolate with the cream cheese, make sure the chocolate is no longer hot but warm is okay. Work fairly quickly so that it doesn't start to solidify.
If the filling sits too long, it will get thick. If this happens, you can microwave it for 30 seconds, and stir to soften it up. Do not overheat, or it might split.
Just to give you an idea, here are what the different steps look like…
No bake chocolate cheesecake crust:
Filling when it's all mixed together:
Filling after transfering to the pan and smoothing over:
Keto Low Carb No Bake Chocolate Cheesecake Recipe – An easy no bake chocolate cheesecake recipe with 20 minute prep! Keto low carb chocolate cheesecake has just 5 ingredients in the crust & 4 in the filling.
——————-——————-——————-——
——————-——————-——————-——
Healthy Chocolate Truffles
These healthy chocolate truffles from Mom Foodie are the perfect addition to any party. Plus, making them only requires four ingredients.
The chocolate is melted and almond butter is mixed in. Greek yogurt is then added to the mixture and stirred unto evenly mixed.
rolling truffles
The truffle mixture is then rolled into small balls and tossed in cocoa powder to finish.
Healthy Chocolate Truffles
Healthy Chocolate Truffles
Print Recipe Pin Recipe Rate Recipe
Prep Time:
10 minutes
Cook Time:
5 minutes
Chill:
2 hours
Total Time:
15 minutes
Course: Dessert Cuisine: American Servings: 12Calories: 58 kcal
Ingredients
½ cup semi-sweet chocolate chips
1 Tablespoon almond butter may substitute with your favorite nut butter
¼ cup plain Greek yogurt
¼ cup unsweetened cocoa powder
Instructions
Place chocolate chips in a small bowl, and microwave for 1 minute, stir and continue to microwave in 15-20 second intervals (stirring in between) until melted.
Stir in almond butter until combined.
chocolate truffle mix
Add Greek yogurt and mix until incorporated.
Cover and chill in refrigerator for 2 hours to firm up.
Use a tablespoon to scoop the chocolate mixture into clean hands and roll into balls.
Roll the balls in the unsweetened cocoa powder to complete the truffles.
rolling truffles
Store in the refrigerator until ready to be enjoyed
——————-——————-——————-——
——————-——————-——————-——
Chocolate Covered Pecans
A handful of these chocolate covered pecans by Forget Sugar Friday will satisfy your sweet tooth and keep candy cravings at bay.
Pecans, however, are the perfect nut to enjoy on the keto diet. They have only ONE gram of net carbs per serving! Heck, you could eat an entire CUP of pecans and still only consume 5g net carbs. (Brazil nuts and macadamia nuts are also great choices.)null
So this means they're the perfect nut to take a bath in some dark chocolate, as you can see…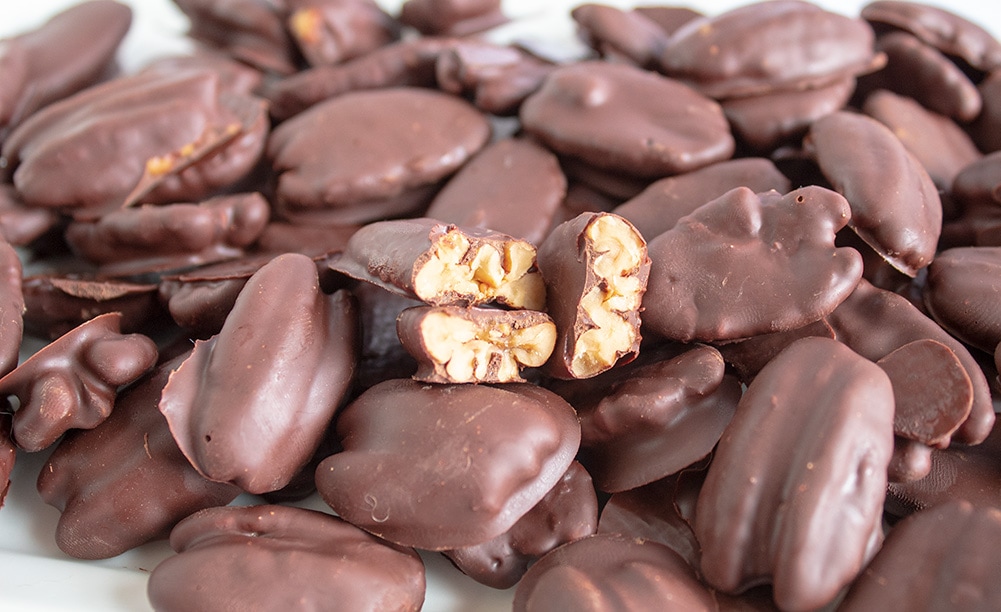 Ingredients Used in Chocolate-Covered Pecans
Other ingredients and tools:
How to Easily Make Chocolate-Covered Pecans
There are two steps to this recipe: (1) toasting the pecans in butter and (2) melting the chocolate and dipping the pecans in this melted chocolate. The awesome thing is I'm actually giving you two recipes in one. You can totally stop at the butter-toasted pecans step and enjoy yummy, slightly sweetened toasted pecans!null
To make the toasted pecans, you'll melt some butter, mix in the pecans and stevia…
…and then bake them in the oven. Keep a watchful eye on your pecans the last five minutes to make sure they don't burn!
Here they are nice and toasted:
To make the chocolate-covered pecans, you'll melt the chocolate chips slowly in the microwave in a few short increments to get a nice, smooth chocolate (please see the recipe card for exactly how to do this; it only takes a few minutes). This is not tempered chocolate, so your Chocolate-Covered Pecans won't be shiny. However, feel free to go the tempered route if you have the skills and patience. 🙂
To the fully melted chocolate, add the coconut oil and pecans. Yum-my!
Remove each pecan (I used a fork) and place it on a large non-stick baking sheet (preferably covered with a silicone baking mat). Note: You may end up with a small amount of extra chocolate depending on how generous you are (or aren't) with your dipping. If you do, just refrigerate it in a dish until it returns to chocolate form.
Pop the baking sheet in the fridge for at least 30 minutes and out will come your Chocolate-Covered Pecans, ready to eat! The perfect sweet treat for the keto diet. Note: These need to be stored in the fridge or freezer. They'll start to melt a bit in your hands if you leave them out too long, so only take out what you plan to eat soon.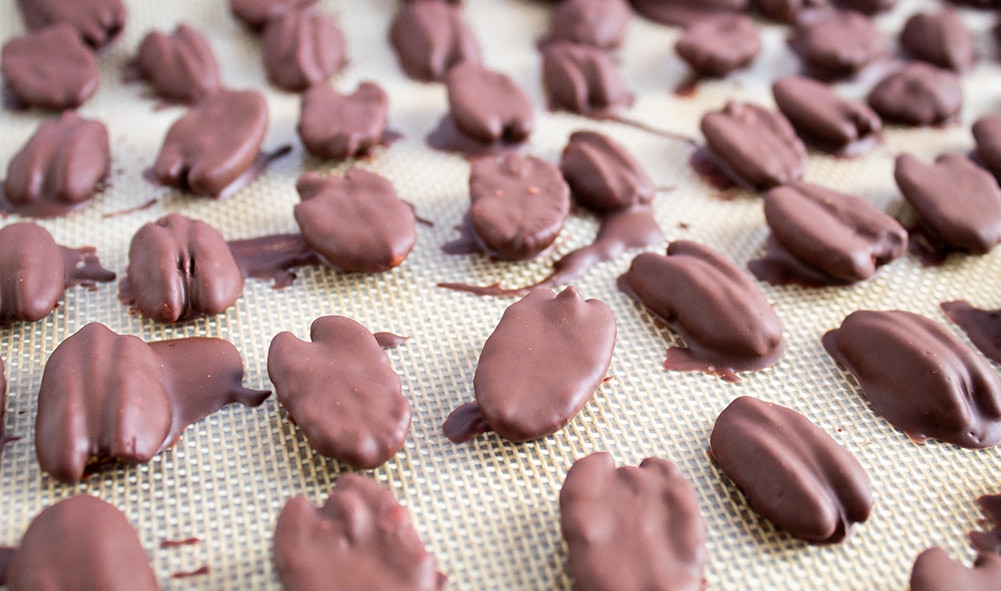 ——————-——————-——————-——
——————-——————-——————-——
No-Bake Chocolate, Almond, and Coconut Cookies
These cookies, from Green and Keto, are a keto-friendly triple threat. And you don't have to turn on your oven to make them.
INGREDIENTS IN KETO NO-BAKE COOKIES
Traditional no-bake cookies are made from peanut butter, lots of sugar, and either oats or another cereal. So, to make these no-bake cookies keto-friendly, I had to make some substitutions.
These keto no-bake cookies start out with a base of melted butter and almond butter. I chose an almond butter with no-added sugar to complement the flavor of the sliced almonds I added— but you can certainly substitute peanut butter or any other nut butter than you like.null
Then, I added a couple tablespoons of cocoa powder and powdered erythritol sweetener. Either natural cocoa or Dutch cocoa can be used to make these keto cookies. Dutch cocoa powder is cocoa powder that's been alkalized to make it less acidic and give it a mellower flavor.
If you want the flavor to be super dark and earthy, use Dutch cocoa. If you want the flavor to be a bit lighter or fruity, use a natural cocoa powder. Since the cocoa powder is the main flavoring ingredient in these cookies, don't be afraid to splurge on something high quality. I love this premium natural cocoa powder.null
A drop of vanilla and a pinch of saltround out the flavors of chocolate and almond in keto no-bake cookies.
For the crunchy mix-ins, I chose sliced almonds and coconut chips. Coconut chips are larger prices of unsweetened dried coconut. I like the crunchy texture of the coconut chips in this recipe. If you wanted a chewier texture, you could go with the smaller-size desiccated coconut. Either the coconut chips or the desiccated coconut would make a delicious keto no-bake cookie.
And, for an extra boost of flavor, try toasting the almonds and coconutbefore mixing them into the cookie batter. To toast the almonds and coconut, spread the almonds and coconut flakes on a baking sheet in a thin layer and bake in preheated 325° oven. The almonds and coconut will toast very quickly — only 5-10 minutes.
ALMOND BUTTER VS. PEANUT BUTTER
Is almond butter healthier than peanut butter? Almond butter and peanut butter have similar nutritional values. You could say that almond butter is slightly healthier than peanut butter because it has more vitamins, minerals, and fiber. But depending on what brands you choose, both nut butters are roughly equal in calories, fat, carbs, and protein.
For example, Barney Almond Butter (no sugar added) has 16g fat, 7g total carbs, 4g fiber, 3 net carbs, and 7g protein.
Spread the Love Organic Peanut Butter(no sugar added) has 15g fat, 6g total carbs, 2g fiber, 4 net carbs, and 7g protein.
Link to original article below.