Pumpkin, Beef, and Black Bean Chili
BY MARIAN COOPER CAIRNS SEP 15, 2014
From http://www.countryliving.com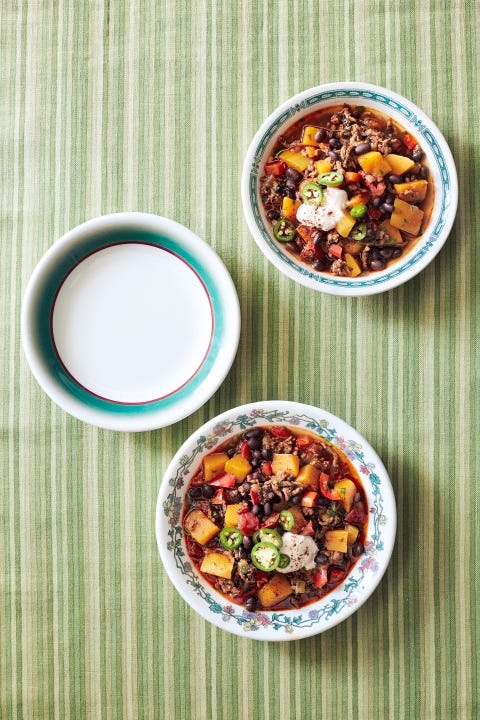 The addition of pumpkin makes this hearty beef and bean chili perfect for fall.
CAL/SERV: 398 YIELDS: 6PREP TIME: 0 hours 20 minsTOTAL TIME: 0 hours 45 minsINGREDIENTSChili1 1/4 lb. ground round1 medium Sweet onion1 red bell pepper3 clove garlic2 tbsp. chili powder1 tbsp. dried oregano1 1/2 tsp. ground cumin3 c. sweet pumpkin or butternut squash1 can black beans1 can fire-roasted diced tomatoes1 can low-sodium beef broth1 1/4 tsp. Kosher salt1 tsp. Freshly ground black pepperc. Chopped fresh cilantroSliced fresh jalapeñosChipotle Sour CreamChipotle Sour Cream1 container sour cream1 tsp. minced canned chipotle chiles in adobo sauce2 tsp. fresh lime zest1 tbsp. fresh lime juiceThis ingredient shopping module is created and maintained by a third party, and imported onto this page. You may be able to find more information about this and similar content on their web site.
Cook beef in a large Dutch oven over medium-high heat 8 minutes or until beef crumbles and is no longer pink. Remove with a slotted spoon. Cook onion and next 2 ingredients in drippings for 7 minutes. Stir in chili powder and next 2 ingredients and cook 1 more minute. Stir in pumpkin and next 5 ingredients.
Bring to a boil; reduce heat to low and simmer 20 to 25 minutes or until pumpkin is tender. Stir in cilantro and season to taste with salt and pepper. Serve with jalapeños and Chipotle Sour Cream.
Chipotle Sour Cream: Stir together sour cream, chipotle, lime zest, and lime juice. Season to taste with salt and pepper.
Here are some pumpkin health facts from http://www.healthline.com
Pumpkin is high in vitamins and minerals while being low in calories. It's also a great source of beta-carotene, a carotenoid that your body converts into vitamin A.
Pumpkin contains the antioxidants alpha-carotene, beta-carotene, beta-cryptoxanthin and many others, which may protect your cells against damage by free radicals.
Pumpkin is high in vitamins A and C, which can help boost your immune system. Its supply of vitamin E, iron and folate may strengthen your immunity as well.
Pumpkins' high vitamin A, lutein and zeaxanthin contents may protect your eyes against sight loss, which becomes more common with age.
Pumpkin is packed with nutrients and yet has under 50 calories per cup (245 grams). This makes it a nutrient-dense food. It's also a good source of fiber, which may suppress your appetite.
Pumpkins contain carotenoids, which function as antioxidants. These compounds are linked to lower risks of stomach, throat, pancreas and breast cancers.
Pumpkin is a good source of potassium, vitamin C, fiber and antioxidants, which have been linked to heart health benefits.
Links to the original articles below.
Health facts from – https://www.healthline.com/nutrition/pumpkin#TOC_TITLE_HDR_8
Chili recipe from – https://www.countryliving.com/food-drinks/recipes/a6184/pumpkin-beef-black-bean-chili-recipe-clx1014/